AmeriChoice Contractors LLC licensed in OR as Residential General Contractors.
A Residential General Contractor license has very few limits.   Other than Electrical and Plumbing a contractor licensed as a Residential General Contractor in Oregon can legally provide home owners with any trade or contractor service as long as he has kept himself up to date with any special certifications or course work the job requires.   As long as a workers compensation insurance policy is in place and documented safety training is provided a Residential GC can provide the work or service using employees.   When the project demands specialized trade skills usually hiring a licensed specialty contractor is the best option.  A Residential General Contractor can also roll up his sleeves and do the work himself.
  Very Important message from the owner

: 
Hello this is Chad Westover Owner of AmeriChoice Contractors LLC.  First off  please make sure you ask anyone offering you services as AmeriChoice Contractors LLC to show you identification.  Demand photo Identification.  Anyone could easily produce a business card, t-shirt or written contract that says Ameirichoice Contractors LLC on it.  Make sure you have a written contract with me, signed by me.  A written contract with me or even a verbal agrement with me I will honor.  A written contract or verbal agreement with anyone else I can not be responsible for.  I am the sole owner of AmeriChoice Contractors LLC.  If anyone other than myself offers to provide services to you as AmeriChoice Contractors LLC please call me .    
I have not had time to go through this website and make it fit more exactly my business plan.  I'm glad to get calls for any service.   I am only taking on projects that I can offer the best service at a competitive price.  If your project sounds like something I am not the best fit for I will refer you to a another contractor I believe to be the best fit for your needs.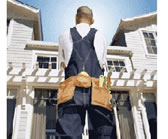 Portland Contractors.
General Contracting, Remodeling, Renovation & Maintenance Services a home owners need:
New Roofs
Roof Repairs
Roof Cleaning
Cedar Roof Preservative
Moss & Algae Prevention
Gutter Cleaning
Gutter Guards
Tree trimming or removal

Wood Restoration & Staining
Painting Interior/Exterior
Wall Paper Removal
Drywall Services
Flooring: All Types: Carpet, Vinyl, Tile, Hard wood, Bamboo
Building Deck & Fences
Simple Cleaning Services: Pressure washing, Carpet Cleaning, Windows, Maid Service

New Siding
New Windows
Kitchen Remodeling
Bathroom Remodeling
Design, Planning & Permit Services
Plumbing and Electrical: Permits are obtained and work is performed only by Licensed Electricians and Plumbers
Excavation
Water Damage Restoration